Having finished off a couple of large projects last week, I finally had time to go through some of my old projects that I'm not quite happy with. Sometimes you invest a lot of time and money in a piece, and then can't quite work out why you don't like it!
Could this possible have two eyes, looking left, and a screaming mouth??
A slight adjustment to the top right paisley…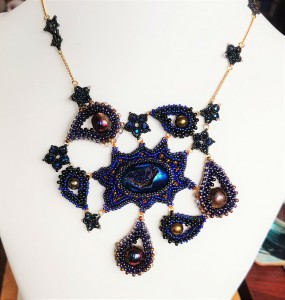 … and now we have comets circling a galaxy, as intended. A nice little redesign.
This peacock collar did not fit correctly. It collapsed inwards, and was missing a focal stone.
I must admit that I finished it off all too quickly in May, as I wanted to show it at the big bead show, but I knew it wasn't quite right. So I made another 18mm rivoli star, and re-engineered the wirework.
It's now a much more stable, and wearable design, and it's still reversible!
This one, I'm still thinking about. I had some inherited beads from my auntie, they are made of painted clay, and very lovely and unusual. I made a series of Little Tiny Beaded Beads to match, and threaded them all together.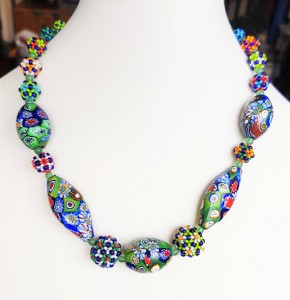 However, I cheated a little, and added plain beads around the back. Having worn it now, I feel that to be consistent, there need to be beaded beads all the way around. So I may have to do another remake! I'll see how I feel!
The great thing about beadwork is that all the parts are reusable, so it's never too late to do a design tweak! And definitely worth it. Get the scissors out!
Bonne Perler!