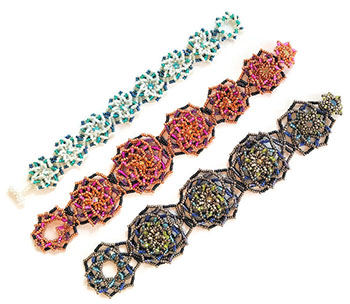 The "Roses in Bloom" is a bracelet has so many variations.
It can either be fastened with a neat little cufflink, or with a stripy toggle. The main rose elements can me made in a variety of sizes, to suit your taste.
Alternatively there is a single layer version that makes a lovely lacy bracelet.
Using mostly Miyuki 11/0 seed beads, this is a very flexible pattern.
This pattern works in groups of seven, a lucky number!
Suitable for beginners to intermediate beaders.
Cost £20
Date: Saturday 7th September, Hamilton Hall, Betchworth